Here at Barrel Roll, we've always offered uptime monitoring as part of our membership plans. That tells us if your site goes down so we can reach out to the host and get your site back online as soon as possible. We take uptime seriously and we're proud that our member sites have well above average uptime stats.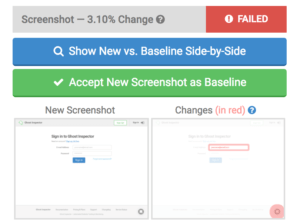 What happens if your site is online, but something went wrong with an update or there is a caching issue and things just don't look right? Maybe someone broke a form or removed a critical call-to-action. These types of issues aren't picked up by uptime monitoring but they are certainly noticed by your customers.
Although we visual inspect our member websites regularly to ensure they look great and function perfectly, it's important that this be done often and with a system that doesn't forget what a page is supposed to look like. That's why we've been testing and are excited to announce the availability of our visual content monitoring feature!
Using a sophisticated cloud based monitoring system, we scan up to five pages on desktop and mobile for each of our Premium members daily and compare against a known-good baseline for changes. If visual differences between the baseline and the current version of the page exceed a specified percentage we get notified and take a look ourselves to see what's going on.
Our visual content monitoring feature is just one more way Barrel Roll takes great care of our members.
LOOKING FOR A WORDPRESS EXPERT?
If you're interested in learning more about maintenance for your website, get in touch to learn how Barrel Roll can keep your site performing at its best to support your growing business.